Battle Vision™ is Great For All This & More!
Motorcycle
Fishing
Any Outdoor Activity!
Introducing Battle Vision™
These hi-tech HD polarized lenses eliminate glare, enhance color, and provide UV protection. Using the latest polarized lens technology you can even see things that are undetectable to the naked eye!
These are no ordinary sunglasses. You can bend them and twist them Because Battle Vision™ is built atomic tough. From riding your motorcycle, to catching that prized fish, and any outdoor activity in between, battle through the glare and see with sharp clarity.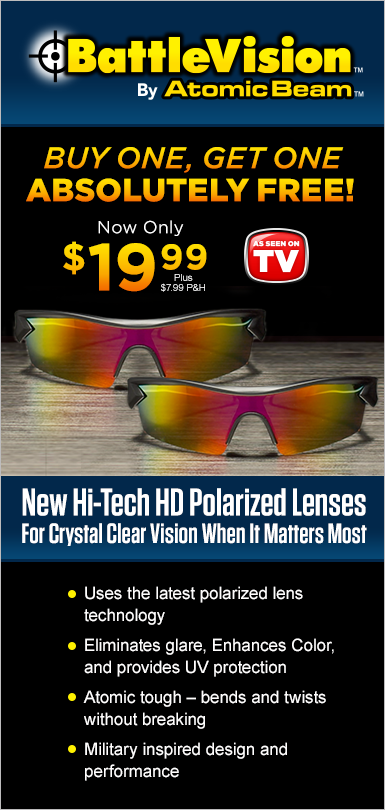 OFFER DETAILS:
Order Battle Vision™ by Atomic Beam™ today for just $19.99 + $7.99 S&H and get a second pair absolutely free. You can also get the SPECIAL OFFER Night Vision Glasses for just $9.99 plus no additional shipping and handling.
An additional $10 shipping surcharge is added for items sent outside of the Contiguous United States.
*CA, NJ & WA residents, sales tax applies.